Palliative Care RN, Salem, OR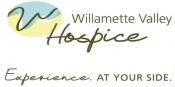 View the Website
Willamette Valley Hospice
Nurse
Salem, OR
May 14, 2018
Willamette Valley Hospice - Palliative Care RN
Be a part of the new energy and excitement of our revitalized Palliative Care Team. We are looking for a talented full-time Registered Nurse to join us on this unique team as a case manager. The field-based, Palliative Care RN Case Manager will coordinate care and provide initial & ongoing nursing assessment of the patient and family needs, coordination of the patient's plan of care with interdisciplinary team members and the community PCP, with supervision from the Palliative Care MD/NP. The comfort, compassion, teaching, and empowerment you provide can help patients and their families make the most of their time living with a very serious illness.
Duties
Fully use your professional skills and training, including critical thinking, teaching and assessment skills as you provide services to patients, families and caregivers in their own homes and facilities
Conducts urgent/acute visits on all Palliative Care patients with the goal of keeping the patient out of the hospital in order to receive the best medical care at home
Use your teaching skills to empower family caregivers as you guide them and help them identify their options for care to optimize quality of life, assessing for caregiver burnout, and providing community resources when appropriate
Coordinate the care of patients, working as part of an interdisciplinary team to meet the holistic needs of the patient and their family/caregivers
Provide caring, professional nursing services to patients as indicated by the plan of care you develop with the interdisciplinary team
Perform initial and ongoing assessments of patients, developing and revising the plan of care as needed, assessing of the impact of life-limiting chronic illness on the patient's physical, functional, psychosocial and environmental needs
Provide timely documentation and communication of assessments, planning and interventions
Manage your own daily schedule working within the guidelines of agency policy and regulatory requirements
Requirements
Current Oregon RN license
Minimum five years of recent clinical experience as RN. We prefer two years of hospice, oncology and/or home health experience
Prefer certification as Hospice and Palliative Care Nurse
Current CPR certification
Possess excellent clinical nursing skills, superior ability to problem-solve, and commitment to continued learning and skill improvement
Ability to excel in high-stress situations and manage multiple priorities
Computer competency
Ability to regularly walk bend, stoop, kneel, push, pull, grasp, reach, handle, and lift up to 50 lbs.
Current Oregon driver's license, dependable transportation, and proof of current automobile insurance
Our Commitment to Our Staff
A challenging and rewarding career with autonomy, flexibility, and the ability to manage your own schedule throughout your work day
Competitive salary and benefits
Starting salary range is $40.00 to $44.00 per hour, depending on experience.
Comprehensive, 4-6 week orientation
Ongoing education and support
Reimbursement for Hospice and Palliative Care RN certification
Tuition reimbursement program available
To apply
Complete and submit a Willamette Valley Hospice application, found here. As a first step, resumes can be submitted to Careers@wvh.org. Interviews will be scheduled concurrent with posting.
Thank you for your interest in joining the team at Willamette Valley Hospice. We provide rewarding careers for passionate, caring, and experienced employees. Together, we work toward our shared mission to "change the end of life experience…" We believe that everyone facing serious illness, death, and grief deserves access to the best, personalized and compassionate care available, and the team at Willamette Valley Hospice strives to provide such care.
WVH is an Equal Opportunity Employer.
See above
See above
See above