Clinical Services Manager (RN), Portland, OR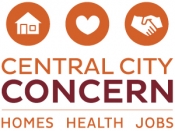 View the Website
Central City Concern
Nurse Management
Portland, OR
June 30, 2017
Central City Concern is a non-profit organization whose mission is to provide comprehensive solutions to ending homelessness and achieving self-sufficiency. CCC provides many services, such as addiction treatment, employment, housing, mental health, primary care, and other related culturally specific services, to a diverse population. As an agency deeply rooted in recovery we have a keen interest in promoting and maintaining a Drug & Alcohol-Free Workplace. As part of our policy and commitment to a drug and alcohol-free workplace we conduct post-offer, pre-employment drug screens.
TITLE: Clinical Services Manager
DEPARTMENT: Old Town Clinic
SCHEDULE: Monday-Friday 8am-5pm
SALARY: DOE
SUMMARY: The Clinical Services Manager is responsible for maintaining the smooth clinical operation of Old Town Clinic. The Clinical Services Manager works closely with clinic leadership and reports directly to the Senior Director of Primary Care.
Old Town Clinic is a healthcare for the homeless, team-based, patient-centered primary care home with integrated substance use disorder treatment and mental health services. OTC is a fun, engaging and challenging workplace. The staff here love coming to work every day and feel connected to the clients we serve. We approach our clients from a harm-reduction, trauma-informed and strengths-based approach.
Old Town Clinic is proud a part of Central City Concern, whose mission is to provide solutions to end homelessness and support clients to self-sufficiency through housing, integrated health care, employment and peer-delivered services.
MINIMUM QUALIFICATIONS:
Successful Completion of a course of accredited study that leads to the AD, or BS or AA degree in Nursing from OSBN or State Board approved course.
Bachelor's of Science in Nursing preferred.
Current RN license in the State of Oregon.
Minimum of three (3) years of progressively increasing responsibility in nursing required.
Three (3) years of experience in health care management preferred.
Must be able to proficiently use the following computer programs: Microsoft Office; Centricity desirable.
De-escalation experience preferred.
Previous experience with nursing in a substance use disorder treatment and/or mental health program preferred.
Demonstrated Quality Improvement experience preferred.
Must have ability to communicate clearly and positively with stakeholders across multiple departments, including EHR, IT, Risk, Compliance, Legal, Billing.
Must have the physical ability to walk, bend, stoop, twist, kneel, reach, squat, pull and lift up to 25 lbs., climb stairs several times a day and stand for long periods of time.
If in recovery, must be able to document continuous abstinence under independent living conditions or recovery housing for the immediate past two years.
Must pass a pre-employment drug screen, TB test, and background check.
Must adhere to agency's non-discrimination policies.
Ability to effectively interact with co-workers and clients with diverse ethnic backgrounds, religious views, political affiliation, cultural backgrounds, life-styles and sexual orientations, and treat individuals with respect and dignity.
HOW TO APPLY:
To view the full job description and apply visit:
www.centralcityconcern.org/jobs
***Applicants must upload a cover letter and resume to their application in order to be considered for this opportunity.***
CCC is an EQUAL OPPORTUNITY EMPLOYER and does not discriminate against applicants on the basis of race, gender, protected veteran's status, disability, or any other protected class. Applicants seeking reasonable accommodation can contact the Human Resources department at 503-294-1681.
See above
See above
See above