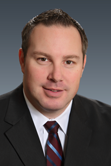 Think You're HIPAA Compliant? You May Not Be - and Even If You Are, It May Not Be Enough to Protect Patient Data
By Kevin Villanueva
Partner, Moss Adams
By Brandon Gunter
As the number of cyberattacks on health care organizations continues to increase, understanding how to secure sensitive data is paramount. In 2017, for example, at least 342 providers were impacted by an attack, according to the
HIPAA Journal
. Implementing best practices and employing the highest standards for cybersecurity protection is simply no longer a luxury; it's a necessity, because health care organizations are now required by law to become proactive in the application of cybersecurity controls and the prevention of data breaches.
Read article

Community Leaders, and Telemedicine, Can Help Narrow the Gap in Minority Men's Health
By Dr. Charles Modlin
,
Kidney Transplant Surgeon, Urologist
Founder and Director, Cleveland Clinic's Minority Men's Health Center
The life expectancy for African American men is more than seven years less than for white men, and they have the highest rates of lung, prostate and colon cancers of any population in the world. Stroke kills 180 percent more black men than it does whites, and Hispanic men are twice as likely as white men to have liver cancer. From diabetes to high pressure to liver disease, the numbers are similarly sobering.
Read article

As Proton Centers Struggle, A Sign Of A Health Care Bubble?
By Jay Hancock
Senior Correspondent, Kaiser Health News
For years, health systems rushed enthusiastically into expensive medical technologies such as proton beam centers, robotic surgery devices and laser scalpels — potential cash cows in the one economic sector that was reliably growing. Developers got easy financing to purchase the latest multimillion-dollar machine, confident of generous reimbursement. There are now 27 proton beam units in the U.S., up from about half a dozen a decade ago. More than 20 more are either under construction or in development.
Read article

Social Media and HIPAA: What Are You Doing to Mitigate Your Risks?
By Abby Bonjean
,
Health Care Attorney, Polsinelli LLP
By Ginamarie Caya
,
Health Care Attorney, Polsinelli LLP
Employees' social media use can cause significant liability for healthcare providers who are subject to the Health Insurance Portability and Accountability Act ("HIPAA"). When posting to social media, the lines between what is personal and professional are often blurred, especially when employees develop close relationships with their patients. The Office for Civil Rights' ("OCR") increased enforcement of HIPAA during the past few years makes it even more critical that health care organizations ensure they are addressing the risks associated with their employees' social media use because such disclosures would likely constitute breaches requiring notification to both the patient and OCR. This article focuses on health care providers' liability under HIPAA, but providers must also consider various state laws and employment issues when addressing employees' social media use.
Read article